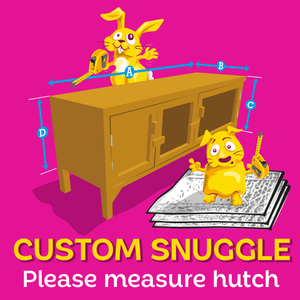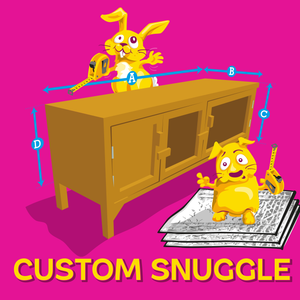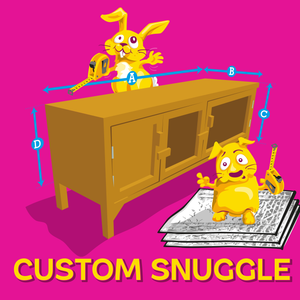 Hutch Snuggle Custom Size
CUSTOM MADE ORDERS MUST BE PLACED BEFORE THE 15th NOV TO ENSURE DELIVERY FOR CHRISTMAS
MEASURING ADVICE

A-Length: Left to Right (across the widest point of the roof )
B-Depth: Front to Rear (on the roof)
C-Height: From the Front edge of the roof to the base of the hutch (excluding the legs)
D- Height: From the Back edge of the roof to the base of the hutch(excluding the Legs)
Maximum size of: Length 190cm x Depth 125cm x Height 125cm
Designed to be used under a hutch hugger™

Please Note we do not make custom made covers for Hutches with Apex roofs.
Please ensure that you measure your hutch correctly as we will not be held responsible for covers that do not fit.

Please allow up to 28 days for manufacture and delivery of bespoke covers.
On Placing my order i confirm that my hutch measurements are correct and have been completed using the guidance notes above.

Bespoke designs can be made to accommodate a single or double storey hutch with a flat or slightly sloping to the rear roof.
Please ensure your measurements are exact
Do not add extra cm as we will allow some tolerance during manufacture.If you have any queries please give us a call.
Introducing Scratch and Newton's hutch snuggle with Bye Bye Fly Screen™, the ingeniously designed product that will give extra comfort to your pet.
In cold weather this creates a micro-climate in the hutch to give your pet extra warmth.
NASA developed the material from which the hutch snuggle™ is made for the purpose of using it on space shuttles, so the hutch snuggle™ helps to regulate the temperature of the hutch keeping your pets warmer in the winter and cooler in the summer.
The bye-bye-fly-screen helps to keep away these pesky flies - reducing the risk of fly strike, therefore you can feel safe in the knowledge that your pet will feel more comfortable and look cool all year round!
The hutch snuggle™ will fit snugly on both slightly sloping and flat roofs.
•Cool pets in the summer
•Cosy pets in the winter
•Easy access for cleaning
•Extra comfort for young
•Nursing or poorly pets
•Natural deterrent to flies
•Reduced risk of fly-strike.