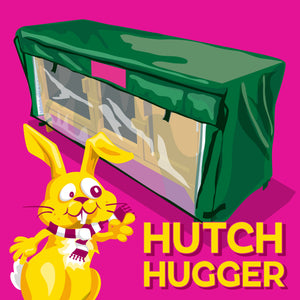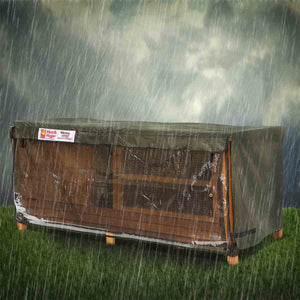 Hutch Hugger™
SELECT THE CORRECT SIZE FROM THE DROP DOWN MENU ABOVE.

PLEASE ENSURE YOU MEASURE YOUR HUTCH BEFORE ORDERING A COVER. SIZES ARE DISPLAYED: LENGTH OF ROOF X DEPTH OF ROOF x HEIGHT (TOP OF ROOF TO BASE OF HUTCH EXCLUDING LEGS)
PLEASE NOTE THE BEDGEBURY COVER WILL ONLY FIT THAT PARTICULAR HUTCH
We offer a wide range of Hutch covers to fit the Chartwell, Bluebell,Rose Cottage, Bedgebury, Dandelion Den, Hawthorn lodge, Sycamore Lodge and Bateman hutches.
Scratch and Newton's hutch hugger™, the revolutionary product that will bring you complete peace of mind by enhancing your pet's lifestyle The hutch hugger™ is extremely easy to fit simply place it over the hutch, adjust the straps and that's it! You may never need to remove it, not even for cleaning out the hutch as the front window rolls up and can be secured safely under the pelmet.
What's more, the impressive hutch hugger™ can save you money by keeping food fresh and bedding dry.

The hutch hugger™ will fit snugly on both slightly sloping and flat roofs. If your hutch is within our standard sizes, we recommend that in order to have the hutch hugger™ fitting your hutch as snugly as possible, your hutch can only be up to 5cm smaller.
• Helps protect your pets from wind and rain
• See more of your happier pet
• Hutch can stay outside in all weather
• Save money prolongs life of hutch
• Save time no more makeshift protection.