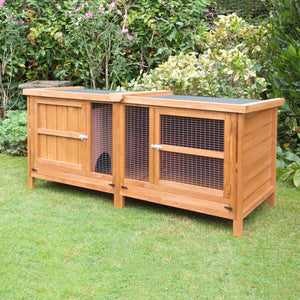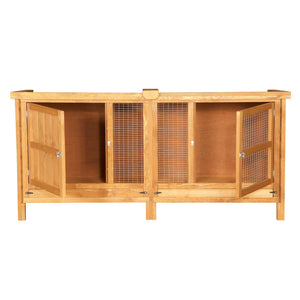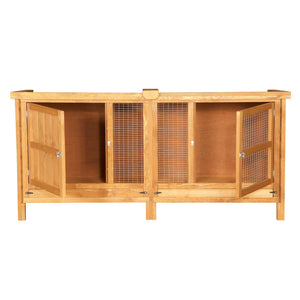 Chartwell Single Hutches
SELECT THE SIZE YOU REQUIRE FROM THE DROP DOWN MENU ABOVE
FREE DELIVERY
Scratch and Newton are proud to present The Chartwell Single Luxury Rabbit Hutches . It's a spacious, deluxe hutch which is ideally suited to one rabbit or two Guinea Pigs. Manufactured in the UK using Scandinavian timber, the Chartwell Single Hutch features a cosy arched divided bedding area, a central wire panel to hang a water bottle and a removable kick-board for easy cleaning and safe petting. The integral legs lift the hutch off the ground to prevent rising damp and ensure adequate air circulation. The Chartwell Single Hutch has been weather proofed with animal safe, water based wood preservative to protect against deterioration from rain and sun.
If you require Hutch covers please order the correct size from the Hutch Covers Page- The Chartwell Single Hutch Hugger & Snuggle will help keep your small furries dry and snug, whatever the weather.
Now with thick 1.6mm - 16 Gauge Fox Proof wire mesh
Thick 10MM Construction Grade WBP Ply Wood Floors
Robust 10MM timber side panel and sleeping door construction
Designed and Manufactured right here in the UK
Thick 9MM Construction Grade WBP Ply Wood Floors
1"x ½" galvanized wire mesh doors
Cozy arched divided bedding area
Central wire panel for water bottle
Removable plinths for under door cleaning
100mm (4″) Integral legs
Aluminum barrel bolts
Weatherproofed water-based treated
Easy diagram assembly
This Hutch comes flat packed for home assembly. Please allow up to 4 days for delivery.

Cover sizes for reference

Single Covers

HH123.5 x 65.5 x 63 4ft
HS123.5 x 65.5 x 63 4ft
HH153 x 65.5 x 63 - 5ft
HS153 x 65.5 x 63- 5ft
HH181 x 65.5 x 63- 6ft
HS181 x 65.5 x 63- 6ft